Club Rides
How to ride in a group? Watch a 3 minute video from British Cycling
Social Club Rides take place every Sunday throughout the year and start from Welshpool Leisure Centre or Newtown Leisure Centre at 9.30am on alternate weeks (check the website for the date and location of the next ride).
Ride routes are posted a few days before each ride on the Hafren Cycling Club Facebook page. We aim to run two rides each week, an "A" and a "B" route. On occasions, the two rides will be combined and paced to suit all the riders present. These are "no –drop" rides, so you won't be left to get home alone if you have misjudged the effort or have a mechanical problem, but pick a level that is sensible for you.
At least once per month we aim to organise a "Leisure Ride" targeted at women, juniors and new cyclists. These are meant to be primarily social rides and to act as an introduction to the Club and to group cycling.
The club welcomes new and prospective members to participate in all these rides. They are a great way to meet the club members and learn group riding skills. Potential new members can ride as guests on up to 3 occasions before committing to a membership of the club.
We offer rides to suit everyone, so whether you are looking for a gruelling ride over challenging terrain, or a steady ride at your own pace, there's a Club Ride for you
Be prepared – Club Ride Etiquette and Dealing with an Accident have useful information for all of us'
Ride Descriptions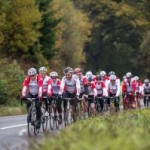 "B" Group Ride
Typically these rides will be 2½ – 3 hours long and will include a café stop. The distance will range somewhere between 30 – 40 miles depending upon the terrain (we do ride in Wales) and will be at a steady pace.
The speed and effort required makes this an ideal entry to club rides for women, juniors, new cyclists and for experience riding in a group. It is also suitable for more experienced riders looking for an endurance ride as part of their training regime. As an example of the effort required, this ride should be very relaxed and you should be able to carry on a conversation without any problem. Like all our rides, this is a "no drop" ride, so you won't be left behind if you are struggling or have a mechanical failure. It is normal on group rides for the group to split on ascents and descents. We all cope with the ascents at our own pace and on the descent it is safer to have some distance between riders. No one should feel pressure to keep up with the quicker riders. The ride captains will ensure that the group comes together at the top or bottom.
This is a great ride to build group riding skills and the endurance fitness base that any cyclist needs, whether you are new to the sport or an old hand looking for specific endurance conditioning.
"A" Group Ride
Typically these rides will be 3 ½ – 4 hours long and will include a café stop. The distance will range somewhere between 45 -55 miles depending upon the terrain and will suit stronger cyclists used to group riding.
These rides are first and foremost a social ride for the stronger cyclist and are not flat out training rides. The pace will be variable and there will be times when the group is split, including on flat sections, however the group will come back together at regular frequencies.
Those joining this ride should be confident that they have the fitness to complete the ride, however these are still "no-drop" rides and as such, if any rider is struggling with the effort (we all have those days), or is new to the ride and has simply misjudged their ability, the ride captain will ensure that the group eases the pace for the remainder of the ride, or another rider will accompany that rider to the end of the ride.
Whilst there are some very strong riders in this group, it is NOT an "elitist" group and any rider wishing to push their limits to improve is very welcome and will get support from all the other riders (we're actually quite friendly). The important thing here is to be prepared to push your limits, it's still not a full on 'training bash', but designed to stretch you and your fitness. This will benefit those planning a tough sportive or similar challenge.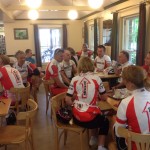 Leisure Rides (Monthly)
Look out for these rides to be posted (Web Site and Facebook page) periodically at least once per month depending upon demand.
Typically these rides will be 2 – 2½ hours duration and will include a café stop. These rides are an introduction to club and group riding aimed at women, juniors and new cyclists. Regular club members would also be welcomed as helpers/guides.
Riders will need a suitable road bike.
The distance will be 20 – 25 miles and the terrain will be chosen to be manageable to all.
These rides will be entirely social rides with the emphasis on healthy fun (cake aside!!).
Hopefully, these will act as a stepping stone for those needing the confidence to commit to the full club rides
General Points
For those wishing to add mileage to their rides, an informal arrangement has developed where riders will meet in either Newtown or Welshpool at 8.30am to ride to the start of the club ride (From Newtown on the days when the ride is a Welshpool ride and vice versa). Confirmation is usually posted on the Club Facebook page by one or more of those intending to do so.
Once a year, in the summer (when the weather forecast permits), a long distance joint Club ride will be organised. Again the emphasis of this ride is on a social "day out". Typically this has been a route to the coast and back and involves a lunch as well as a coffee stop. This will be posted in good time to plan availability, as this will take up most of the day.
There will be some seasonal variation in ride length and pace, due to weather, road conditions or daylight hours. In extreme conditions and at the sole discretion of the Ride Captain, a ride may be cancelled at the last minute in the interest of safety.
Please be aware that if rider numbers are low due to bad conditions or other factors (holiday periods), there may only be a combined "A" and "B" ride. This will be paced to suit all.
Hafren Club rides are open to new and guest riders, but out of courtesy to our fully paid up members, after attending three rides non-members will be asked to join the club.
 Please respect these Rules of Hafren C.C. Group Rides
Everyone must wear a hard shell helmet – this applies to 

all

 club rides.
Nobody will ever be left behind.
Ride safely. Riding two abreast is the safest and most efficient way to ride, other than on busy roads or narrow lanes and complies with the Highway Code (even if a lot of motorists don't understand this).
Your bike must be fully roadworthy and not liable to cause any risk of accident and therefore potential harm to other group riders.
Where possible ride leaders should plan and advertise their route 2 – 3 days prior to the ride.
The club encourages everyone to lead a ride at some point, this makes routes more varied and makes it less of a commitment to the same people every week.
ALL Hafren C.C. group rides are just that – a group ride – not an extension of one person's training needs. Please don't drive the pace up in any of the groups in order to hit your training goals.
Choose the ride that matches your required effort for that day.
Please carry spare tubes, a pump and multi-tool or similar.
In case of emergency, a mobile phone (or at least one within the group) is advisable.
Bring some cash with you as at some point most rides will involve Coffee & Cake – yum!!
Ride with courtesy to your fellow riders and other road users.
Remember, you are representing Hafren C.C. whenever you are on one of our club rides.
Respect all members, at all times please – We are a Diverse and Inclusive club.
Please read the Club Ride Etiquette  section on our website – it will give you an excellent insight into what is required of you when riding as part of a Hafren C.C. group ride –
Most of all –
ENJOY YOUR HAFREN C.C. RIDE