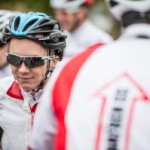 The following guidelines are to inform new riders and to remind more experienced riders of the behaviour and safety controls expected during club group rides.
This ride etiquette is consistent with many clubs within the UK and by turning up to a Hafren C.C. club run you accept that you will be required to follow these ride principles. Ride leaders will ensure that all riders are aware of the standards required and will help riders adhere to them to ensure the safety of the group.
For most people, cycling is a safe and effective form of exercise. If you have any health concerns or an existing medical problem we recommend that you should see your GP before you start.
It should be noted that the Club rides are not intended to be training rides; they are first and foremost a social ride and should be respected as such. That said, there will be opportunities to push yourself, however please respect the fact that these are group rides and everyone needs to enjoy the ride without undue pressure to ride faster or harder than they are able to.
The ride leaders will determine the ride speed on the day dependant on the riders present, the ride terrain and the weather conditions. Please respect the wishes of the ride leader on the day.
Equipment and Clothing
Your bike should be in good working order. Gears should change smoothly without dropping the chain, brakes working effectively and the tyres in good condition and inflated to the correct pressure as recommended by the manufacturers and accounting for the conditions (usually within the range of 80psi – 110psi).
Mudguards are discretionary during wet/winter riding however are recommended for the comfort of yourself and the other riders. They also make the bike easier to clean after a ride, always a bonus.
Your clothing should be specific cycling clothing and should be appropriate for the prevailing weather conditions. As a rule, shorts are not usually sufficient on cooler Autumn days and in Winter. Muscles need to be kept warm to improve performance.
If rain is forecast, particularly on cooler days, carry a rain jacket. Body cooling rapidly occurs in the wet.
In very cold weather, apart from tights and windproof jersey, wear layers to assist with body warmth, overshoes and warm gloves.
Wear a suitable cycling helmet. This is an absolute requirement on a Club Ride.
Carry 2 spare inner tubes, a pump, food (bars, gels, banana etc) and plenty to drink.
It is also advisable to carry a mobile phone and money (coffee stop or emergency provisions).
Group Riding
Riding in a group is a great way to hone your riding skills, learning from more experienced riders by observation and conversation. You will also find that the overall ride speed is greater than that possible riding solo, without exerting any more effort.
Group riding however does require some specific skills and concentration as you will be in close proximity to the other riders in the group and minor lapses in concentration can result in an accident. For this reason it is essential that you and the rest of the Group follow these rules when riding on a Club Ride.
Ride two abreast other than on busy roads or narrow roads. Whilst this accords with the Highway Code, most car drivers do not understand this, therefore when notified by the rear of the group of a car approaching the rear of the group, safely revert to single breast riding.
Avoid breaking the lines. Riders at the front will drop off when ready and safe to do so and will tag on at the rear of the group. The next pair takes up the lead.
When following, stay close to the wheel in front. This saves energy (circa 20%). Keep concentration, but do not stare at the wheel in front. Be aware of the road ahead.
Avoid overlapping the wheel in front. The front rider will be unaware of this and any sudden change of direction, such as avoiding and obstacle will cause and accident that could result in other riders falling.
Take your turn on the front of the group. When it is your turn on the front, keep the effort steady. There should be no sudden acceleration. This will only cause a break in the group. It is normal for the pace to increase on steady inclines and slow on steady ascents, however the power output should remain constant.
It is normal to spend about 5 minutes on the front. Any longer may sap your energy unduly and cause you a problem later in a ride. Some stronger riders can cope with longer on the front; however this should not be exploited on a Club Ride.
If you need to slot into a position in a line of riders, indicate your intention and make sure the rider that will be behind you has seen your intention and created a gap.
Do not push the pace because you feel strong. The ride leader is setting the pace and will do so by judging how everyone else on the ride is coping.
If you are struggling with the pace, make this known to the ride leader who will control accordingly.
The group will split on climbs and it is safer to split on descents. Re-grouping will occur shortly after.
Do not make any sudden movements or manoeuvres in the group, such as braking or changes of direction. Other group riders need to be able to anticipate your actions and not be taken by surprise.
Communicate any issues to the other riders such as, a puncture, mechanical issue, tiring, out of food or drink etc. If you need to stop, do so with a loud warning to the group and brake steadily.
If you become aware of riders dropping off, send a message up to the front of the ride.
Don't ride in the gutter If you're on the front of the group, don't sit in the gutter as you'll be forcing everyone else to follow you increasing the likelihood of hitting obstructions such as drain covers and of picking up punctures. Where possible, ride 1 m out from the kerb
Half-wheeling (when one of the two riders on the front continually pushes his wheel ahead of his fellow rider to try and push them to go faster) is disruptive to the ride and care should be taken to avoid this practice
Verbal Communications/Warnings
All of these should be passed down the line, the riders at the back will not hear calls from the front rider(s)
Car Up – Vehicle approaching the rear of the group.
Car Down – Vehicle coming towards the front of the group.
Easy – Advance warning of some hazard ahead of the group, e.g. road junction, sharp bend, wet in road, etc.
Single out – when a car needs to come by or the group is approaching a narrow section of road.
Hole – pothole ahead.
Clear – when pulling out of a junction and the road is clear for following riders.
Stop or Car – when at a junction and it is not clear.
Hand Signals *
In addition to the standard directional signal of the left or right hand extended out to the side, which should be used whenever you are cycling on the public highway, see below some of the other common hand signals used when riding in a group situation.
Make yourself aware of these prior to going out on a group ride and also check with a group member which hand signals and verbal shouts they regularly use, as they can vary locally. Repeat signals seen from riders in front, the last riders in the group will not see the signals made by rides at the front.
One hand as if "gently patting an invisible dog": This shows that the group is slowing down or just to ease the pace back a bit.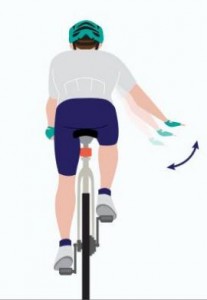 Pointing down at the road sometimes with a circling motion: Indicates an obstruction or hazard on the road such as a pothole or drain cover that needs to be avoided. Be sensible with this one and only point out major obstacles that should be avoided. This signal is often accompanied with a call of 'below'.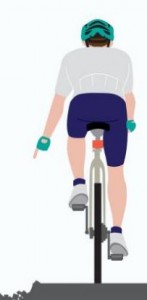 Waving/pointing behind back: Indicates that there is an obstruction such as a parked car or pedestrian and that the whole group needs to move in the direction indicated to avoid it.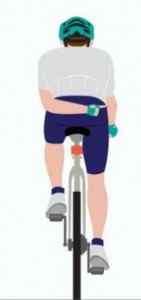 (* Hand Signals – Text and Images courtesey of British Cycling)
Please remember that when you are riding on a Club Ride and/or wearing the Hafren Kit, you are representing Hafren Cycling Club and we would like to maintain a reputation as a safe and responsible Club. Respect all members, at all times please – we are a Diverse and Inclusive club.
Riders who cannot or will not comply with the ride rules and general etiquette will be asked to leave the ride.
Thank you for following this etiquette. Happy and safe riding.