Hafren CC Women's Facebook  Page and Facebook Group Launched – for all interested in Women's Cycling
Hafren CC actively encourages female cyclists and provides plenty of opportunity for them to get out on their bikes with others.  For example female members compete in time trials, cyclocross races, road races and other races such as closed circuit races. To fin dout more contact womenscycling@hafren.cc
For those who just want to enjoy the company of others there are club runs which often include a cafe stop; great for getting together and having a chat.
The women in the club are very supportive and will encourage other women to make the most of their cycling.  Women often get together after work to go for a ride, even in the winter.  It certainly helps pass the time on a dark winter's night.  If you've never been part of a club and are a bit nervous then it's often reassuring to see other women out on the club rides.  The existing female members are a real mix of ages and abilities so you're sure to feel at home in Hafren CC.
Here is a taste of some of the activities that our women have taken part in:
The Great Orme Race, Llandudno, Rebecca Richardson was racing for the first time alongside 19 other riders and finished a superb sixth and, whilst her strong performance may have taken her competitors by surprise, this would have been little shock to the Club who see her abilities week in week out during the club rides. Lucy Davies also competed in her first road race just four months after taking up the sport.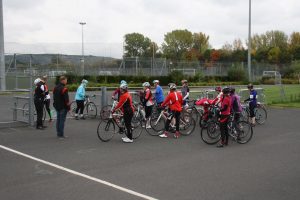 The club also put on a training session for local female cyclists at Sundorne Sports Village in October.  Other sessions are planned in the spring:
And if you just want to ride as part of a group, then we are a very friendly bunch:
Club rides take place on Sunday mornings, details can be found above under Club Rides.  Contact details are also above if you need more information.
If you're a female rider but not sure whether you're ready to join a cycling club but want to get out with other women then British Cycling's Breeze programme may be something to consider.
British Cycling's Breeze is the biggest programme ever to get more women into riding bikes for fun. The aim is to help thousands of women feel confident about going on a bike ride, and have lots of fun along the way.
One of the club members is a Welsh Cycling Breeze champion and runs rides for women in the area.  Details can be found at: Breeze – Mid Wales
Finally if you need any more info on any of the above then by all means contact me by email at: jacks.harris@hotmail.co.uk.
Hope to see you out with us soon, Jackie Harris