Promoted for and on behalf of Cycling Time Trials under their rules and regulations.
Wednesday 1st August 2018 7.00pm
Friction& Hydraulic Services Championship Points Series Round 13
HQ: Berriew Community Centre SY21 8PD (B4385), please park considerately.
Timekeeper: Mrs Gill Morrison, North Shropshire Wheelers
Timekeeper's Asst: Mr Tony Brooks Hafren CC
Event Secretary: Chris Taylor 4 Rhodfar Castell, Montgomery, Powys SY15 6ES.
COURSE D310/1 (opens in new tab)
Start in lay-by on A483 south west of Welshpool (near Lazy Leek café), proceed north-east 3.15miles to Bryn Sarn RAB, take 2nd exit to Station RAB, encircle and retrace to Bryn Sarn RAB 2nd exit. Finish at grid opposite Northwood Motor Company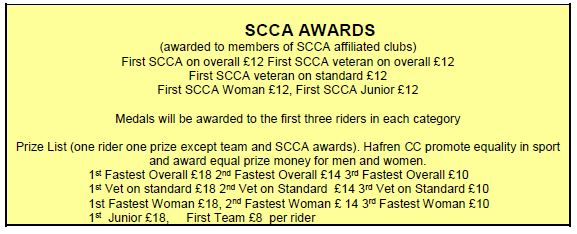 Riders please be aware:
No U-Turns in the vicinity of the start area please
In the interests of safety Cycling Time Trials and the event promoters strongly advise you to wear a Hard Shell Helmet that meets internationally accepted safety standards. In accordance with Regulation 15 all Junior riders MUST wear such helmets.
It is also recommended that a working rear light, either flashing or constant is fitted to the machine in a position visible to other road users and is active whilst the machine is in use
| | | | | |
| --- | --- | --- | --- | --- |
| No | Start Time | Name | | Club |
| 1 | 19:01:00 | Ian | Nisbett | Hafren CC |
| 2 | 19:02:00 | Charlotte | Chapman | Nova Raiders CC |
| 3 | 19:03:00 | George | Aldridge | Birkenhead North End CC |
| 4 | 19:04:00 | Gino | Trasatti | North Shropshire Wheelers |
| 5 | 19:05:00 | Kieran | Morris | Oswestry Paragon CC |
| 6 | 19:06:00 | Andrew | Rose | Nova Raiders CC |
| 7 | 19:07:00 | Conrad | Taylor | Hafren CC |
| 8 | 19:08:00 | Darrell | Walsh | Oswestry Paragon CC |
| 9 | 19:09:00 | Charlie | Price | Mid Shropshire Wheelers |
| 10 | 19:10:00 | Bryn | Davies | Hafren CC |
| 11 | 19:11:00 | Paul | Birkin | Buxton CC/Sett Valley Cycles |
| 12 | 19:12:00 | Chris | Davies | Ludlow Brewery Race Team |
| 13 | 19:13:00 | Emma | Serjeant | Hafren CC |
| 14 | 19:14:00 | Robert | Elliott | Wrekinsport CC |
| 15 | 19:15:00 | Richard | Kay | North Shropshire Wheelers |
| 16 | 19:16:00 | John | Robertson | Mid Shropshire Wheelers |
| 17 | 19:17:00 | Glyn | Jones | Oswestry Paragon CC |
| 18 | 19:18:00 | Jenny | Newton | Nova Raiders CC |
| 19 | 19:19:00 | Jason | Arnold | Hafren CC |
| 20 | 19:20:00 | Jacob | Sparrow | Ludlow Brewery Race Team |
| 21 | 19:21:00 | Brett | Lowndes | Pro Vision Cycle Clothing |
| 22 | 19:22:00 | Samuel | Holwill | Hafren CC |
| 23 | 19:23:00 | Steven | Ford | Nova Raiders CC |
| 24 | 19:24:00 | Louise | Downward | Hafren CC |
| 25 | 19:25:00 | Craig | Ball | Mid Shropshire Wheelers |
| 26 | 19:26:00 | Ed | Middleton | Nova Raiders CC |
| 27 | 19:27:00 | Mike | Holwill | Hafren CC |
| 28 | 19:28:00 | Jack | Young | Mid Shropshire Wheelers |
| 29 | 19:29:00 | Steve | Taylor | Hafren CC |
| 30 | 19:30:00 | Alex | Leek | Velo Club St Raphael |
| 31 | 19:31:00 | Peter | Thomas | Hafren CC |
| 32 | 19:32:00 | Jenny | York | Mid Shropshire Wheelers |
| 33 | 19:33:00 | Jack | Morris | Oswestry Paragon CC |
| 34 | 19:34:00 | Andrew | Hellowell | Revolutions Racing |
| 35 | 19:35:00 | Matt | Gibbons | Nova Raiders CC |
| 36 | 19:36:00 | Luke | Vallance | Wrexham RC |
| 37 | 19:37:00 | Geoff | Edgerton | North Shropshire Wheelers |
| 38 | 19:38:00 | Henri | Bedford | Revolutions Racing |
| 39 | 19:39:00 | Michael | Wells | Hafren CC |
| 40 | 19:40:00 | Tony | Harvey | Mid Shropshire Wheelers |
| 41 | 19:41:00 | Andy | Hazell | Nova Raiders CC |
| 42 | 19:42:00 | Dave | York | Mid Shropshire Wheelers |
| 43 | 19:43:00 | Helen | Tudor | Oswestry Paragon CC |
| 44 | 19:44:00 | David | Wilson | North Shropshire Wheelers |
| 45 | 19:45:00 | Tyler | Brennan | Hafren CC |
| 46 | 19:46:00 | Dean | Dovey | Nova Raiders CC |
| 47 | 19:47:00 | Mark | Hill | Hafren CC |
| 48 | 19:48:00 | Ian | Casson | Birkenhead Victoria CC |
| 49 | 19:49:00 | Colin | Lythe | Oswestry Paragon CC |
| 50 | 19:50:00 | Daniel | Watts | Royal Air Force Cycling Association |
| 51 | 19:51:00 | Stuart | Mccormick | Port Sunlight Wheelers |
| 52 | 19:52:00 | Ian | Pollard | Cotswold Veldrijden |
| 53 | 19:53:00 | Deborah | Hutson-lumb | Nova Raiders CC |
| 54 | 19:54:00 | Les | Boughey | North Shropshire Wheelers |
| 55 | 19:55:00 | Kirk | Vickers | Rhino Velo Race Team |
| 56 | 19:56:00 | Tim | Beardmore | Nova Raiders CC |
| 57 | 19:57:00 | Lucy | Davies | Arctic Tacx RT |
| 58 | 19:58:00 | Simon | Evans | Mid Shropshire Wheelers |
| 59 | 19:59:00 | Jonathan | Goh | Paramount CRT |
| 60 | 20:00:00 | David James | Williams | Velotik Racing Team |